Intermittent Fault Emulator
Finding an intermittent fault in electrical and electronic components and wiring is like trying to photograph a lightning strike – you have to be in exactly the right place at exactly the right time – and so purpose-built testers like the Ncompass-Voyager are the best way to do this. But how do you know your intermittent fault detection tester is capable of detecting intermittent faults and to what sensitivity?
Copernicus Technology have the solution: the Intermittent Fault Emulator (IFE)
The IFE produces fault events that mimic an intermittent fault in terms of duration, profile and ohmic change, and it can do this across multiple channels. Download the leaflet explaining the numerous features of the IFE.
The fact is, if you are buying, developing or performance-checking an intermittent fault detector/tester of any kind, then there is no better way to check its performance than with an IFE.
IFE Features
Similar in appearance to an aircraft LRU the IFE consists of a number of connectors, that provide the interface to the Tester Under Test (TUT), and connection to a host laptop or PC with the IFE user software. This model of Intermittent Fault Emulator has been used by the USDOD for evalation of test equipment: full details are available in MIL-HDBK-527.
The IFE generates a variance in resistance across 256 channels, to represent intermittent fault events for the TUT to detect. Sequences of these events are run from the IFE user software. Event Sequences can be pseudo-random or user-defined event sequences; all sequences are saved and time-stamped and they can be repeated, modified, analysed and downloaded.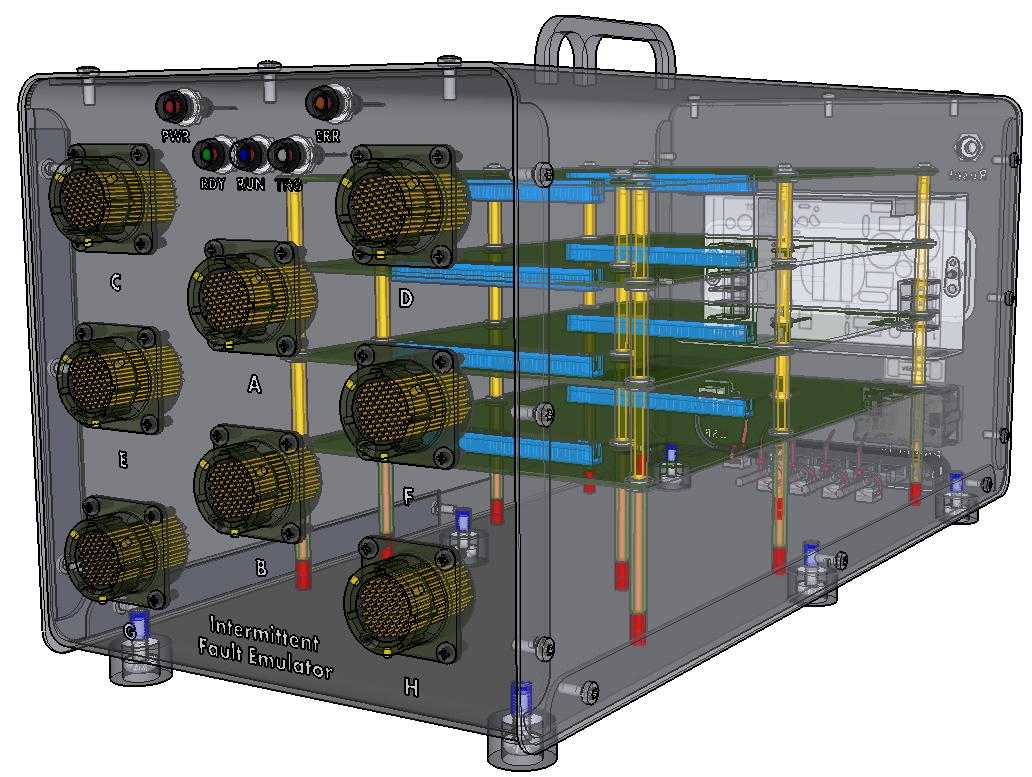 IFE units are available in 64-Channel, 128-Channel and 256-Channel systems (units can be daisy-chained to gain more channels for a system)

With 66-way 38999 connectors

Or 64-Way male ribbon connectors

Bespoke number of channels and output connectors on request

USB Driven with Windows 7 (or greater) GUI

UK Patent Pending
During use the IFE is connected to a host PC (typically a laptop) and operated by use of a Graphical User Interface (GUI) software application loaded on the connected laptop. The IFE GUI 'App', pictured below, is used to set up intermittent event sequences and to manage, save and download the sequences and corresponding runs or emulations.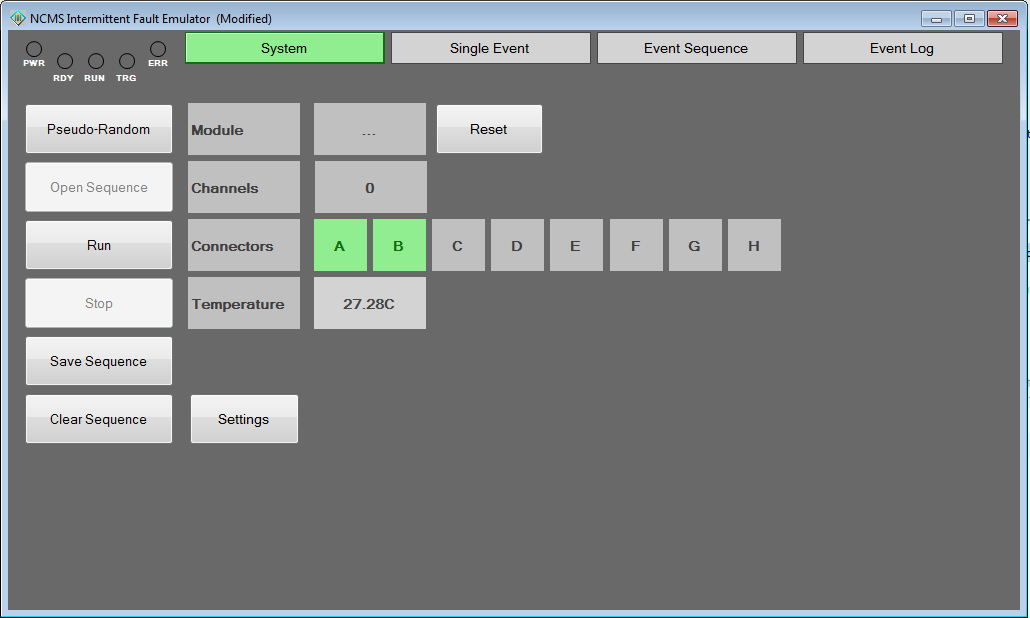 For further details please contact us or call us on 01343 842406 or email: This email address is being protected from spambots. You need JavaScript enabled to view it.