Bespoke Services & Consultancy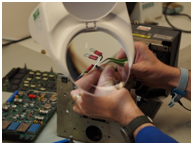 Copernicus Technology provide specialist technical services focused on defeating downtime and reducing support costs. These include testing & technical investigations, maintenance strategy reviews and R&D.
Our expert competences are focused around electrical/electronic/avionic systems, testing, software, diagnostics and "No Fault Found" (NFF) solutions - all of which we have accrued from our many years working in the Aerospace & Defence sectors.
Copernicus Technology's Technical and R&D services and consultancy cover a multitude of disciplines which are applicable to a range of industry sectors:
To enquire about our Technical Services & Consultancy call us on +44(0)1343 842406 or email us at This email address is being protected from spambots. You need JavaScript enabled to view it.