USAF F-16 - Intermittent Fault Detection Testing of Radar LRUs
The USAF's Ogden Air Logistics Center is using Intermittent Fault Detection & Isolation Systems (IFDIS™) to increase the Availability and reduce the Total Ownership Costs (TOC) of the F-16 AN/APG-68 Radar system.
The USAF are IFDIS™ testing several F-16 radar LRUs, especially the Modular Low Power Radio Frequency unit (MLPRF) and the Programmable Signal Processor (PSP); and also the Azimuth-Elevation ribbon-cable, the Digibus Matrix Plate Assembly Ribbon Cable, the Mechanically Scanned Array back-plane, and the Radar Antenna.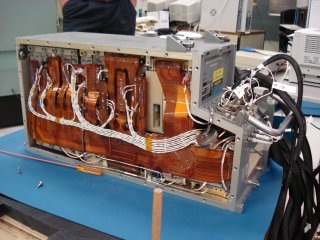 To pick just one example, the Return On Investment from testing the MLPRF has been astounding. The MLPRF (pictured left) was suffering high rates of No Fault Found and was selected for IFDIS™ testing. Several hundred MLPRF chassis have been tested to date, with intermittent faults found in over 60% of all items tested, as well as high percentages of miswires, shorts and opens – all of which had remained undetected when using conventional ATE.
So far this has resulted in the recovery of flight hardware worth $42M, repair man-hours halved and LRU Time On Wing tripled from an MTBF of 289 to 926 flying hours: all of which is contributing to ongoing TOC reductions of $4M per year.
In recognition of this outstanding success, the IFDIS™ was voted as the winner of the US DoD Great Maintenance Ideas competition in 2010 and 2012, from a field of over 300 entrants.
If this case study sound similar to problems you're trying to solve then contact us now to discover how our products & services will help you: scroll down for our contact details