Business Jet Contactor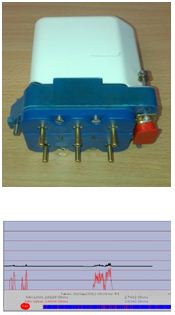 This type of contactor was causing problems for the client because they were being rejected for repair but then passed ATE testing, making them 'No Fault Found' items.
Copernicus Technology Ltd was able to rapidly set up the ability to carry out Intermittent Fault Detection testing with Ncompass™ test equipment. Ncompass™ testing was used for Intermittency testing with the contactor in the open and closed configurations, for stability testing with the Log Scope function, and for Continuity to confirm the correct sense of operation.
The testing conclusively detected intermittency and instability (illustrated in the screenshot on the left) on a specific line in the Contactor circuit, which the client is now investigating. The test set-up and testing was completed within a day and can now be repeated for rapid and standardised testing of multiple relays.
If this case study sound similar to problems you're trying to solve then contact us now to discover how our products & services will help you: scroll down for our contact details