Maritime Patrol Aircraft Training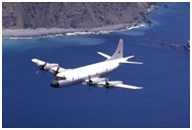 Whilst existing MPA-capable forces need to maintain their edge, more and more nations are now adding MPA-capability to their armed forces by using a new generation of diverse and flexible ISR aircraft of varying sizes such as the Airbus Military C295, ATR 72 MP, Boeing P-8, Embraer EMB 145 MP, Saab 2000 MPA and the Dassault Falcon 900 MPA.
CTL has a network of MPA professionals with experience of operating world-wide. Our MPA training solutions can add value for nations embarking on MPA programmes for the first time, Defence/Commercial companies developing sensors and platforms for MPA capability and Commercial Maritime Businesses and Maritime Security firms looking to understand the role airborne surveillance can play in enhancing their business.
Our highly experienced Subject Matter Experts (SME) possess extensive instructional experience across a wide range of MPA and ISR disciplines. We may also be able to offer training opportunities in other under-water exploration spheres with our in depth knowledge of Oceanography. Our training style is inclusive and inter-active, ensuring that all participants gain the very most from their course and retain as much as possible that is relevant to them. We have benchmark experience in developing flying training to Defence Systems Approach to Training (DSAT) for the UK MOD (JSP822), including in capabilities well beyond Maritime Patrol and ISR. DSAT offers a top down approach to training design that allows a clear understanding of what skills are required to achieve a capability need, in what potential environment and to what standard.
We can provide a 'Train the Trainers' package to allow a client to receive preliminary training services before they then take on their own training once comfortable with their new capability.
List of Courses
The following list details our standard courses – click on each tab for details - and contact us to discuss tailored, client-specific courses.
If you would like to know more about these courses then please contact us straight away by emailing This email address is being protected from spambots. You need JavaScript enabled to view it..
MPA
Maritime Patrol Aircraft Capabilities & Operations
This course is an introduction to Maritime Patrol aircraft that is suitable for any client beginning to explore MPA capability. It is also particularly helpful for any business/organisation that may require MPA to support or protect its operations, so they may better understand what the platform can offer.
Typical course content includes the following (not an exhaustive list):
MPA roles

Friendly Assets

Sensors, Communications & Avionics

Airframe Performance & Equipment

Basic Procedures

Future capability