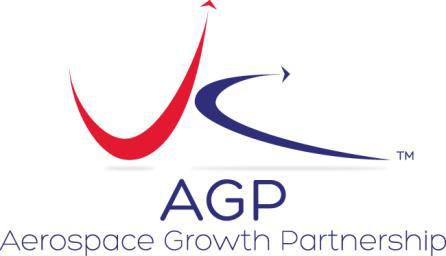 27 Feb 2014 – This week Copernicus Technology Ltd (CTL) was at the Aerospace Growth Partnership (AGP) Technology Showcase in London, where the progress being made in the development of the AGP and the UK's Aerospace Technology Institute (ATI) was briefed to over 400 attendees over the course of 2 days.  The AGP is a collaborative partnership between industry and Government that represents a long-term commitment to maintain and grow the second largest aerospace economy in the world.  It will oversee investment of over £2B in 7 years in UK aerospace R&D in 4 priorty 'pillars': Aerodynamics, Aerostructures, Advanced Systems and Propulsion.
The event, which was held a stone's throw from the Houses of Parliament at the Queen Elizabeth II conference centre, featured presentations including CTL, Boeing, GE Aviation, Bombardier Aerospace, AgustaWestland, Michael Fallon MP (Minister for Business, Innovation & Skills and co-chair of the AGP),  Marcus Bryson (CEO of GKN and the industry co-chair of the AGP), and Stephen Henworth CBE, newly appointed chair of the ATI.
The event was organised by the Aerospace, Aviation & Defence Knowledge Transfer Network (AAD KTN) and CTL had been invited along by the KTN to provide a presentation on our experiences of participating in R&D collaborations with aerospace companies and Universities.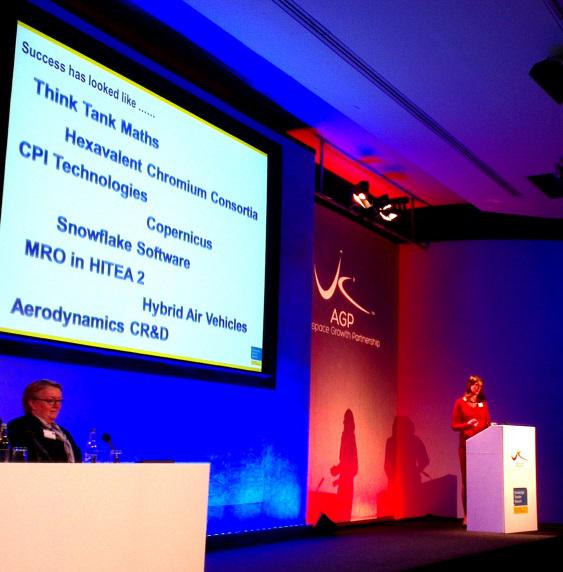 The conference was opened by Dr Ruth Mallors-Ray, Director of the AAD KTN, and her opening address highlighted a number of KTN success stories – one of which was CTL.  Ruth referred to CTL's first involvement in the KTN back in 2010 and how it had enabled us to establish strong links with many key players in UK aerospace technology.  Since our first involvement we have supported many AAD KTN events and went on to become a member of its Electronic Systems National Technical Committee (ES NTC).
The AAD KTN will cease to be on 1st April, with its NTCs being subsumed by the ATI, whilst the team will be absorbed into a single 'KTN Co' overseen by the Technology Strategy Board.
Following Ruth's opening comments the day was then chaired by Jenny Body, President of the Royal Aeronautical Society.  Over the course of the day high-profile industry speakers provided in-depth background on UK government's strategy for the commercial aerospace sector had led to the formation of the AGP and the ATI.  Michael Fallon MP announced that £60M of AGP funding had just been approved for 7 projects – click here to read full details of the announcement.
During day 2 the conference split into 4 sessions focused on each of the AGP pillars and CTL Managing Director Giles Huby presented to the Advanced Systems audience on the topic of 'Aerospace Innovation: an SME perspective'.  The presentation covered the background of what CTL does and went on to explore the challenges of innovation in new technology products and solutions ("If I'd asked my customers what they wanted they'd have said faster horses" according to Henry Ford!) and the risks and rewards of R&D funding and industry collaborations.  Huby summed up by urging fellow SMEs to take advantage of the opportunities offered by the AGP in the coming years, whilst also encouraging larger aerospace companies to avoid the urge to be risk-averse and instead embrace the chance to work with SMEs and smaller companies.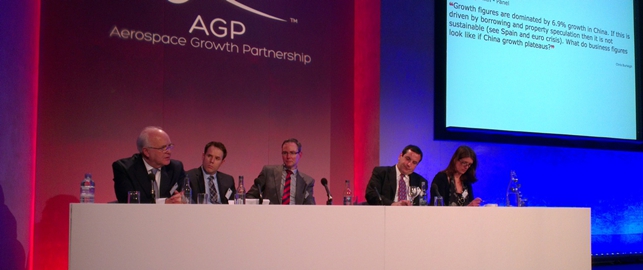 Other Advanced Systems presentations included the ES NTC's future plans; an insight into its electronics in harsh environments research – HEEDS - led by Aero Engine Controls; and the impressive array of UAV integration, R&D and manufacturing projects being undertaken by Blue Bear Systems Research.
The final session of day 2 looked to the future forecasts for global commercial aerospace.  Sir Roger Bone (seated on the far left in the above picture) of Boeing UK outlined Boeing's market estimates beyond 2032 and highlighted the importance of the UK's role in that – in one example explaining that a Rolls-Royce-powered Boeing 787 Dreamliner is 25% British-made.  Sir Roger was followed by speakers from Bombardier Aerospace, AgustaWestland and Teal Consulting, who all gave their own projections and perspectives on what the future holds for the industry.
The AGP Technology Showcase highlighted that the UK's aerospace sector is in rude health, with the 2nd largest aerospace industry in the world after the US.  Furthermore, the senior figures presenting at the conference all agreed that the UK government "couldn't not" protect and sustain the industry and by allotting the AGP funding and setting the underpinning industry strategy it was sending a strong message of intent to the rest of the world.  The British are coming!
Click on the links below to learn more
About Copernicus Technology Ltd
We find what others can't.  We provide award-winning Ncompass™ test equipment and maintenance data exploitation tools to help our Aerospace & Rail clients fix the causes of 'downtime' and 'No Fault Found'.  CTL also provide world-leading maritime patrol aircraft operations expertise through training and consultancy services.  CTL are ISO9001:2008 accredited and we are located in the UK, Netherlands and Australia.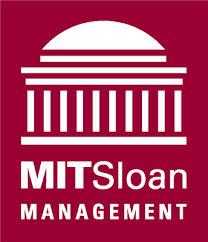 26 Feb 2014 – The saying goes "Getting an education at MIT is like taking a drink from a fire-hose", and CTL has recently visited the Massachusetts Institute of Technology (MIT) to sip from that fire-hose!  CTL Managing Director Giles Huby attended one of the world's globally renowned businesses executive development programmes run by the MIT Sloan School of Management.  Around 120 entrepreneurs from across the globe take part each year to gain inspiration, insight and learn the tools they need to drive the growth of their businesses in national and international markets.
Giles is pictured on the far left in the picture below, along with some of his fellow course members from Scotland, Canada, Japan and the USA.
Since 2007, over 100 of Scotland's most ambitious businesses have been sponsored by Highlands and Islands Enterprise (HIE) and Scottish Enterprise to attend the course and HIE sponsored four leading Highlands and Islands entrepreneurs to attend the 2014 program in January this year.   Stephanie Anderson of HIE supports each of the companies from the applications process to their return from Boston. She commented: "The impact on participating businesses of taking part on this course has been seen to be transformational. Businesses gain the inspiration, confidence and tools to take strategic decisions within their organisations and in some cases radically overhaul their vision, strategies, structures, markets, profitability and success.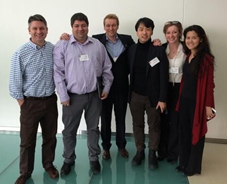 "Our strategic partnership with MIT has been ongoing now for almost 10 years and has benefitted many businesses across the Highlands and Islands. Our relationship with MIT, particularly its Sloan School of Management, is going from strength to strength and we're delighted that another four of our companies have come back from Boston invigorated and inspired and proving that they are amongst the top talent in the world."
Speaking of his experiences at MIT, Giles said: "Whilst we consider that CTL have taken the best of our team's combined experience and blended it with modern business thinking, we wanted to learn more because we want to grow faster.  The MIT course offered a superb opportunity to gain exposure to world-class thinking on the best strategies, insights and techniques to be applied to ambitious and growing businesses. It has allowed us to expand our thinking through meeting with staff and students from all over the world and from a dizzying array of industries.
"From attending, the key lessons learned included the need to absolutely identify and quantify your intended market; the vital need to have the right culture and values in place in your business, to focus and simplify the message behind your product or products and most importantly, it's never too late to learn.  The whole team at Copernicus Technology Ltd are determined to work with me to use the new found knowledge from MIT to accelerate us toward bigger and better things."
Click on the following links to learn more
MIT Sloan School of Management   @MITSloan
Highlands & Islands Enterprise   @HIEScotland
About Copernicus Technology Ltd
We find what others can't.  We provide award-winning Ncompass™ test equipment and maintenance data exploitation tools to help our Aerospace & Rail clients fix the causes of 'downtime' and 'No Fault Found'.  CTL also provide world-leading maritime patrol aircraft operations expertise through training and consultancy services.  CTL are ISO9001:2008 accredited and we are located in the UK, Netherlands and Australia.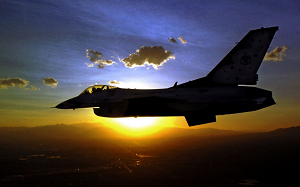 24 May 13 - The outstanding effectiveness of the Intermittent Fault Detector (IFD™) has been further recognised by the US DoD announcing the award of a multi-million dollar contract to procure an Intermittent Fault Detection and Isolation System (IFDIS™) system to test the Programmable Signal Processor (PSP) of the F-16 aircraft's AN/APG-68 radar system.  Universal Synaptics Corp (USC), working with Prime Contractor Total Quality Systems Inc., will deliver the IFDIS™ as part of an ongoing commitment by the DoD to solve No Fault Found (NFF) issues on the F-16 platform.  The IFDIS™ will be supplied with over 8000 channels to test the PSP.  The new tester will be delivered in late 2013 and it is planned to be operational with Hill AFB in 2014.
The IFD™, IFDIS™ and Ncompass™ range of test equipment is the only test technology in the world that can detect intermittent faults down to 20 nanoseconds simultaneously across all channels, which means the probability of detection of intermittent faults is several millions of times higher than the probability of detection when using conventional scanning digital equipment.
USC are the established leaders in the field of Intermittent Fault Detection, winning the DoD's top prize for maintenance innovation in 2010  and 2012  on another F-16 program where the IFDIS has increased the operational availability of the MLPRF by 300%, leading to support cost savings so far of over $50M. 
Since 1996, USC, based in Roy and Ogden, UT., has been an industry leader in detecting and isolating elusive intermittent faults, and spent years in the "trenches" researching and solving complex diagnostic and testing problems. Their research into the primary root causes of intermittent / NFF problems and the massive digital testing void that exists today with conventional scanning test equipment, led to the development of the patented Intermittent Fault Detector (IFD™), Ncompass™ flight-line IFD™ and the Intermittent Fault Detection and Isolation System (IFDIS™).
Copernicus Technology Ltd (CTL) have been USC's exclusive supplier in the EU and Australia/NZ markets since 2009, and CTL and USC collaborate closely on IFD™ technical support and development.  CTL provide the full range of IFD™ products and services, which have been successfully proven in a wide variety of customer contracts for the Intermittent Fault Detection and Integrity testing of anything from back-planes, to cabling, to inter-connection components.  To find out more contact us now!

22 May 2013 - CTL's Technical Director, Jim Cockram, was invited to speak on Airworthiness and Innovation at a major Royal Aeronautical Society (RAeS) conference in London on 21 May 2013.  The conference, entitled "Airworthiness, Innovation, Regulation and the Aircraft Engineer " examined how ongoing changes are affecting the way we maintain aircraft and assure continued airworthiness and, in particular, it focused on the challenges facing the aircraft maintenance engineer.  
Jim, who is a Fellow of the RAeS, presented as the first guest speaker, and his presentation concentrated on the 'Real Challenges of Innovation in Airworthiness and Maintenance'.  His presentation concluded that while there is some great innovation in maintenance activities, and that companies are striving to be world class, unfortunately cultural and contractual issues thwart innovation progress and exploitation throughout.  More information on the whole conference can be found at the RAeS website on its Airworthiness and Maintenance Group page.
Despite the challenges of innovation in aerospace maintenance, Copernicus Technology Ltd continues to excel in this field with pioneering life-cycle solutions, including Intermittent Fault Detection test equipment and highly effective Data Exploitation solutions, that successfully reduce downtime and operating costs.  To find out more about our products and our passion for innovation, contact us now.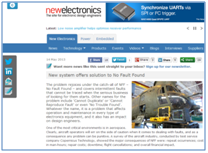 14 May 2013 – in this article New Electronics interviews CTL Customer Focus Director James Martland, who describes the powerful combination of Intermittent Fault Detection equipment with highly developed data analysis approaches.
New system offers solution to No Fault Found
The problem rejoices under the catch-all of NFF – No Fault Found – and covers intermittent faults that cannot be traced when the serious business of looking for them starts. Other names for the problem include 'Cannot Duplicate' or 'Cannot Reproduce Fault' or even 'No Trouble Found'. Whatever the name, it is a problem that affects operation and maintenance in every type of electronics equipment, and it also has an impact on design engineers.
One of the most critical environments is in aerospace. Clearly, aircraft operators will err on the side of caution when it comes to dealing with faults, and as a consequence any problem can be punitive. A survey of the aircraft industry, conducted by test service company Copernicus Technology, showed the major consequences of NFF were: repeat occurrences; cost in man-hours; repair costs; downtime; flight cancellations; and overall financial impact.

The EPSRC Through-life Engineering Services (TES) research centre at Cranfield University played host to the inaugural No Fault Found (NFF) symposium on the 18th of March.  CTL is an industry partner of the EPSRC TES Centre and takes a very active role in supporting the 5-year NFF research project being undertaken there.
The event, which was attended by 145 delegates from over 60 companies, was the first of its kind to bring together a community of practitioners who are faced with the difficult task of trying to solve the challenges of NFF.
CTL Managing Director, Giles Huby, was a key note speaker at the Symposium, where he gave a presentation focusing on the proven benefits of data exploitation solutions to NFF across the entire repair chain; and of testing solutions for one of the major root causes of NFF: intermittent faults. 
He explained how conventional testing fails to adequately detect and localise intermittent faults, resulting in speculative removals and hence unnecessary maintenance, provided examples of the cost impact on the aerospace sector, before explaining that the solution is to apply full testing to all test points simultaneously and continuously. He concluded the presentation by providing case studies to illustrate CTL's successful NFF solutions for data-driven and targeted use of Intermittent Fault Detection Equipment (IFD) as being fundamental to rapidly finding fault root causes.
CTL's presentation from the NFF symposium can be downloaded here
The NFF Symposium Report can be downloaded here
To find out more contact This email address is being protected from spambots. You need JavaScript enabled to view it.

CTL is pleased to announce that they have signed a distribution agreement with Derco Aerospace Inc which assigns exclusive rights to supply Intermittent Fault Detection and Isolation (IFDIS) and derivates of the Ncompass™ technology to certain customers in the European Union (EU).  This agreement capitalises on the strength of CTL as Subject Matter Experts in solutions for solving No Fault Found issues, and Derco's long-standing commercial links and technical prowess with key customers in the EU. 
"We are delighted at the announcement of our distribution agreement with Derco to provide the award-winning IFDIS systems to their customers across the EU," said Giles Huby, Copernicus Technology's Managing Director. "This is an outstanding opportunity to harness our collective expertise to ensure IFD systems deliver a tangible step-change improvement to maintenance diagnostics in the EU's aerospace, defence and technology sectors."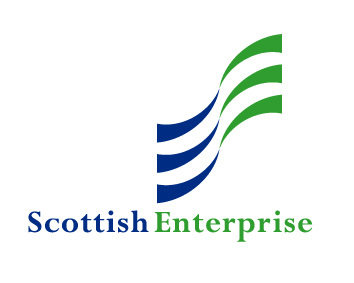 CTL are proud to announce that  their Technical Director, Jim Cockram, has been appointed to  Scotland's Technology Advisory Group (TAG).  TAG was formed under the Scottish Enterprise to: Transform Scotland's research and development base into a major driver for the Scottish economy; Encourage the widespread adoption of technology as an enabler of growth across all industry; Enable new and existing companies to build on Scotland's strong technology capabilities.
TAG is a three-way partnership between business, academia and government, and  focuses on technologies which deliver (or have the potential to deliver) leading capabilities, and on companies and organisations which have technology and/or advanced engineering as a core business competence.
"I am delighted to be appointed to the Group", said Jim Cockram,  "Scotland's strength is in its innovation, and to realise its true potential, collaboration across Government, Corporations, SMEs and Academia is key to its success; TAG helps to underpin this vision and move Scotland to the fore in a Global market.  Being a member of TAG affords me the opportunity to assist in building and supporting a framework that is useful and that we can be proud of".
Want to know more?  Contact: This email address is being protected from spambots. You need JavaScript enabled to view it.