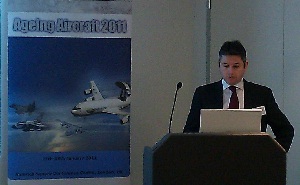 Copernicus Technology Ltd's MD, Giles Huby, delivered a thought-provoking presentation on System Integrity Sustainment on the first day of the UK Ageing Aircraft conference in London last week. This inaugural conference was attended by leading subject matter experts from across industry, academia and the military.




Giles' presentation explored the System Integrity strategies required to reduce the cost of delivering increased availability of ageing aircraft and systems. Having defined System Integrity and explained the need to manage it pro-actively - as advocated by the Haddon-Cave Review - Giles went on to outline how degraded System Integrity manifests itself as intermittent faults in electrical and electronic systems, and how this impacts on aircraft operation and maintenance. The second half of the presentation focused on tackling the issue through Intermittent Fault Detection (IFD), with a number of case studies further underlining how the award-winning Ncompass® IFD test technology has been applied to deliver outstanding Return On Investment in customer scenarios ranging from wiring testing to LRU chassis testing.The subsequent Q&A session explored the application of the Ncompass® neural-network and whether it requires 'training' (it doesn't) and the extent to which it could benefit Prime Contractors if applied in the 'Forward' maintenance environment. The immediate benefits to the Front Line user were extremely evident, and driving up their first-time-fix rate – and driving down repeat arisings and NFFs - by using the Ncompass®, would be of equal benefit to Prime Contractors in the Forward environment, due to the reduced numbers of LRUs repairs required and hence the reduced cost to Performance-Based Logistics/Contracting for Availability frameworks.

On the second day of the conference Giles was a member of the Speaker's Panel for a 'Question Time' style discussion with the audience. The debate generated during this session was very illuminating and concluded that the crucial factor in improving the efficiency and effectiveness of through-life ageing aircraft support was not technology – it was people. Experienced people, skilled people, enthusiastic people, young people. An extremely positive and uplifting note to end on.