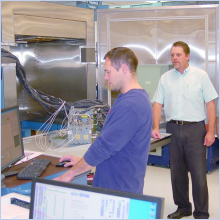 The USAF is keeping F-16 ageing aircraft fleets flying and, at the same time, is saving money and keeping obsolescence at arm's length.  It sounds too good to be true, but this story continues to grow and grow every day at the 523rd Electronics Maintenance Squadron (Avionics) at Hill Air Force Base in Utah.
"We had a large number of boxes, I would say 70-plus that found their way into a holding cell where they were tested by the Air Force technicians," said Chris Tatro, 523rd Electronics Maintenance Squadron (Radio Frequency Shop) electronics technician. "They threw every part at them they could, they did everything to their best knowledge, trying to troubleshoot them and found it had nothing to do with them - the box itself had those problems internally."
$2 million a year was devoted to maintenance of the AN/APG-68 Radar's Modular Low Power Radio Frequency (MLPRF) units - including costs of as much as $30,000 for replacement ribbon cables.  Consequently, the Base wanted to tackle the growing cost of these No Fault Found and Intermittent Fault problems and so they began looking for a solution….and they found it right on their doorstep: Universal Synaptics Corporation's (USC) Intermittent Fault Detection (IFD) technology.
USC, manufacturers of the world-beating Ncompass IFD tester, in conjunction with TQS Inc, embarked on a joint venture to design and build an IFD and Isolation System (IFDIS) to test the rogue MLPRFs.  The results are astonishing.  "By early November, 171 MLPRF chassis have been tested, 131 of which had been considered un-repairable; 86 have been repaired and put back into service while the remaining IFDIS-diagnosed LRUs are awaiting repair parts," said Sami Mansour, 523 EMXS director. "The value of an MLPRF is over $307,000 each, so the 86 already recovered and returned to service represents a return of over $26 million…As a result, mean operating time between depot repairs for IFDIS-tested units has increased from 315 hours to 731 hours, a significant increase in support to the war-fighter directly attributable to the proactive depot actions.".
But the last word on this goes to Chris Tatro.  "It's fun to operate and to run," he says. "It gives me a sense of pride because it helps me help my fellow co-workers and tell them, 'You do this and it will be fixed.' There are some things that we just can't see and just can't do without this machine. It gives us X-ray vision in a sense."
The full article is available at Hill AFB's on-line magazine – click here
You don't have to go all the way to Utah for IFD and IFDIS solutions.  They can be sourced directly in Europe from Copernicus Technology Ltd, exclusive distributor of USC test technology for the EU and Australian markets.  Contact:  This email address is being protected from spambots. You need JavaScript enabled to view it.