And MTBF Doubled
And a Further $1M a Year Maintenance Savings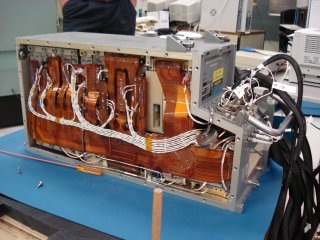 Ncompass test technology, and its unique Intermittent Fault Detection capability continues to rack up huge successes on a major project in theUS. It is being used to undertake intermittent fault detection testing of Modular Low Power Radio Frequency (MLPRF) assemblies (picture right) from the F16 fleet. This was a Line Replaceable Unit (LRU) with a major history of 'No Fault Found' problems, predominantly manifested as a significant number of 'No Fault Found' occurrences at Depth repair.
72% of the MLPRFs had been returned for repair between 2 to 6 times within the last 10 years; at the far extreme, 2 individual MLPRFs had been returned 17 times in the same 10 year period! The end result of this was that the MLPRF repair bay had accumulated 109 MLPRFs that were deemed "unrepairable".
The NCompass' IFD capabilities were brought to bear and the situation soon began to change dramatically. To date, 69 of the 109 "unrepairable" MLPRFs have had the intermittent faults, which had been at the root cause of their No Fault Found problems, detected successfully. All 69 have since been repaired and returned to service: at $307k per LRU, this represents recovery of over $21M-worth of assets to date. Meanwhile, the remaining 40 "unrepairable" MLPRFs have also been tested and now await parts to enable the requisite repairs to take place.
The effects of this Ncompass test programme are such that the Mean Time Between Failure (MTBF) statistic for the MLPRF have increased from 301 flying hours to 656 flying hours. These MTBF increases mean fewer repairs and so this alone is projected to enable additional maintenance costs savings, forecast at a further $1.1M, year on year.
All of this information, including a further case study (F16 Azimuth/Elev ribbon cable) was presented at the May 2010 US Airworthiness & Sustainment conference (formerly known as the 'Aging Aircraft' conference) in Texas. To see the full presentation go this link.
Want to know more? Click on the major links above, for 'Services' or 'Test Equipment'.
Or contact us