The Council of European Aerospace Societies (CEAS) organise a major conference every 2 years and in 2009 it was the turn of the UK's Royal Aeronautical Society (RAeS) to host the event.  CEAS2009 was the European Air & Space Conference, held in Manchester in October 2009, and CTL presented their latest technical paper at the event.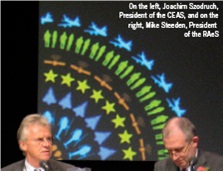 The central theme was 'New beginnings: challenges for aerospace innovation' and intended to offer the aerospace world – but in particular the European community – a comprehensive showcase for innovation, research, technical developments and studies across both civil and military air and space applications.

The conference offered the opportunity for a number of high level personalities within the industry to provide the attendees with an informed and learned light on the main challenges the aerospace profession has to take up. Some 100 technical parallel sessions were run, the programme for which had been designed and managed jointly by representatives from the CEAS Board and the RAeS Specialist Groups. In covering about fifteen disciplines in aeronautics and ten in space, it gave rise to approximately 350 papers presented by experts coming from various institutions and industrial companies.  Included in this, CTL was represented by Giles Huby and Jim Cockram.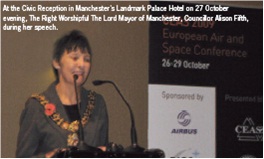 They attended the Civic Reception at the Palace Hotel where they met with current RAeS President, Dr Mike Steeden.  The next day they attended the Airworthiness & Maintenance session of the conference, where they presented CTL's latest technical paper entitled "No Fault Found (NFF) occurrences and Intermittent Faults: improving Availability of aerospace platforms/systems".  This was the first time that CTL had published and presented a technical paper based on its research and the experience was extremely worthwhile.  The Paper was extremely well received and CTL made many new contacts.  A good day's work!

Follow this link to read the Abstract of the technical paper.  

If you would like a full copy of the Technical Paper then contact us: This email address is being protected from spambots. You need JavaScript enabled to view it.

Follow this link to read the CEAS report on the CEAS2009 Conference