Published 23 Feb 2017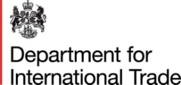 Copernicus Technology is playing its part in showcasing the vital contribution that Small to Medium Size Enterprises (SMEs) make to the UK Aerospace, Defence & Security industry sector, and will be presenting on this topic at a business event organised by the UK Government's Department for International Trade in Edinburgh next month.
Despite its modest size Copernicus Technology is an active member of ADS, the UK trade body for these industries, and sits on several national level ADS committees including the Maintenance, Repair, Overhaul & Logsitics (MRO&L) Network and the ADS Scotland Council. In recent months the company participated in an ADS delegation to brief the Scottish Government's Cabinet Secretary for the Economy, Jobs and Fair Work on the importance of the sector to the Scottish economy, and ADS' #SMESuccess publicity campaign highlighted our award-winning achievements last month (pictured):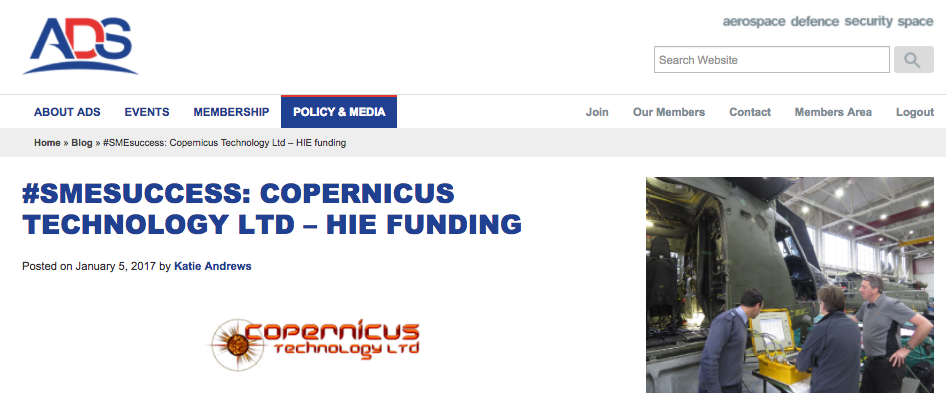 On 15th March Copernicus Technology Managing Director, Giles Huby, will be addressing Government and industry attendees at the ADS & DIT's "Doing Business in Defence and Security Markets" event at Leonardo UK's Edinburgh site. Andy Brown of Leonardo's Airborne & Space Systems Division will talk about how Leonardo works with SMEs, Giles Huby will present "SME Experiences - a Case Study" for Copernicus Technology, and several DIT and ADS presenters will outline the market opportunities and support available.
Speaking about Copernicus Technology's invitation to speak at this significant Defence business event, Huby said "SMEs continue to be vital to innovation, responsiveness and originality in the UK's aerospace & defence supply chain and Copernicus Technology is no exception. It may sound 'big headed' but for such a small business our achievements are, frankly, remarkable - ranging from selling our unique test solutions across Europe, to collaborating with partners in the US, to delivering training in the Far East and to providing specialist MRO&L data analysis services to UK military customers. The opportunity to have this platform to represent ADS SMEs is an important accolade for us and so we intend to provide a balanced, constructive overview of the risks and rewards of doing business in this sector. Most of all we hope to encourage others to follow in our footsteps - in Scotland and the rest of the UK - by avoiding some common pitfalls and spreading their wings in selling to overseas Defence markets too".
About the Event
The ADS DIT & DSO business event will be held 0900-1530 on Weds 15 Mar 2017 at Leonardo UK, Crewe Road North, Edinburgh, EH5 2XS. The agenda will focus on providing a wide range of expert advice, information and support to UK SMEs from ADS and the British Government. There will also be possibilities for pre-arranged one-to-one meetings with the speakers and other experts attending. To register to attend please email This email address is being protected from spambots. You need JavaScript enabled to view it.
About ADS
ADS is the Premier Trade Organisation for companies in the UK Aerospace, Defence, Security and Space Sectors. Membership is made up of 1000 UK registered businesses. Visit the ADS website for more information.