Published 21 Dec 2016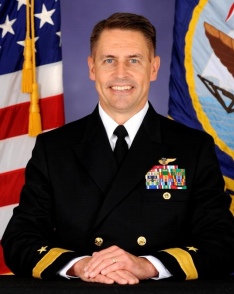 In his 2016 Christmas message the Commander of the US Navy's Fleet Readiness Centers (FRC), Rear Admiral Mike Zarkowski (pictured), thanks his team for their hard work and ingenuity and highlights several innovations that have directly benefited the Front Line. The very first example he mentions in the video message is the use of the Intermittent Fault Detection & Isolation System (IFDIS) on maintenance of F-18 avionics boxes - namely the Generator Control Unit:
"At FRC West, Sailors teamed with artisans to interdict repairs for Generator Control Units using the Intermittent Fault Detection and Isolation System. This resulted in the GCU Time On Wing to more than double, providing what was a top ten degrader asset, to be readily available for longer periods of time in support of flight operations". Rear Adml Mike Zarkowski USN, COMFRC
IFDIS testing of F-18 GCUs has been finding faults that are missed by conventional Automatic Test Equipment, and once detected the faults are repaired by FRC technicians. GCUs that have been through this process have remained fitted on aircraft for over double the previous Mean Time Between Unscheduled Removal. As this testing continues, the increased Time On Wing for GCUs is set to increase even more in the same way that it has continued to increase in the equally successful IFDIS testing of F-16 avionics.
To find out how the proven IFDIS range of test equipment can significantly increase your fleet uptime and readiness and reduce maintenance hours and logistics costs contact us now.