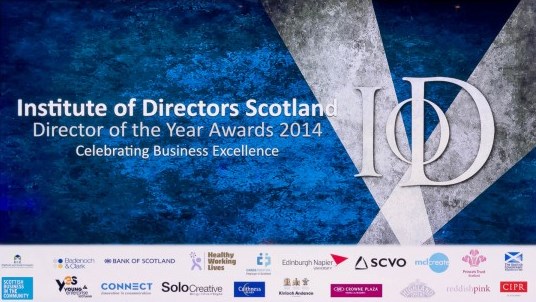 Published 27 Mar 2015
In March Copernicus Technology's Managing Director Giles Huby was named as a finalist for the 2014 Institute of Directors (IoD) Scotland awards.
The awards were presented at a prestigious dinner in Glasgow on March 26th by BBC presenter Kaye Adams and IoD Scotland Chairman, Ian McKay.
Huby was nominated for the Highlands & Islands Director of the Year category for "Copernicus Technology's considerable progress during 2014, including recognition of its innovative products by the USDoD, applying for new technology patents, signing an international distributorship agreement, recruiting key personnel and more than doubling turnover". On the night Giles was pipped at the post for the award by Ben Wilson from Inverlussa Marine Services, a long-established family firm. Coincidentally, Ben was Giles' team mate when they attended the Entrepreneurship Development Program at MIT in 2014.
Speaking after the awards Huby said "Firstly, many congratulations to Ben on winning this award - he's worked really hard at his business. Just being nominated for an award of this nature is a huge privilege and one of the judging panel told me afterwards that being selected as a finalist is a great achievement in its own right. More importantly this was a fantastic opportunity to represent the Copernicus Technology team in front the Scottish business community's brightest and best. Our team achieved this nomination - not me on my own!".
Full details of the awards ceremony can be found here.
About Copernicus Technology

Copernicus Technology is an ISO9001:2008 company providing award-winning Ncompass™ test equipment and maintenance data exploitation tools to help our Aerospace & Transport industry clients reduce life-cycle costs and increase operational reliability by fixing the causes of 'downtime' and 'No Fault Found'.
We also provide world-leading Maritime Patrol Aircraft operations expertise through training and consultancy services.
Copernicus Technology operate in Australia and the UK and we have industry partners worldwide.