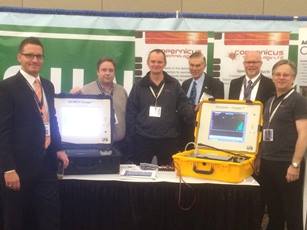 Published 18 Nov 2014
Copernicus Technology are celebrating after their innovative product named the Ncompass-Voyager™, which detects intermittent and integrity faults in avionics/electrical components and wiring, came second in a major annual US Department of Defense (DoD) competition to find the best innovation in maintenance.
The Great Ideas Award
Copernicus Technology are based near Elgin in Scotland and they were the only European company present for the event - the 'Great Ideas' award - at the US DoD's annual maintenance symposium. Copernicus Technology directors Jim Cockram and Roo Hornby were in attendance this year, in Birmingham, Alabama.
In the 2015 competition the Ncompass-Voyager™ portable intermittent fault detection tester was entered by Copernicus Technology's US partners Universal Synaptics Corp (USC). USC have already won the Great Ideas award on 2 previous occasions with their intermittent fault detection technology.
Overall victory eluded the team on this occasion but the Copernicus Technology and USC team were delighted when their product came second out of 300 initial entrants, only missing the top spot by a narrow margin. The winner was a laser paint stripper.
Here's how the Scottish press covered it.
Why the Ncompass-Voyager was a worthy finalist
Intermittent faults are a common issue within the aerospace industry and result in individual aircraft being inactive or unreliable until the cause of the fault is located – losing availability and clocking up hours and billions of dollars in resultant costs for aircraft engineers and the supply chain. The test capability of the Ncompass-Voyager™ is proven on aircraft and train wiring and components in the US and UK, saving millions of pounds and thousands of man-hours in maintenance across several projects ranging from B757s to Chinook helicopters. The portable Ncompass-Voyager™ test system can test multiple (up to 512) circuits simultaneously for intermittence and a number of other wiring integrity issues, finding the fault far more quickly than traditional testers.
Jim Cockram, Copernicus Technology Technical Director said: "We were absolutely delighted that our product came second in this competition. The whole event was extremely successful for us as our stand attracted considerable interest from the 4 US defence arms. We so much hope that this will lead to increase in interest in the US and Europe for our detector– it really is a great product."
Copernicus Technology are experts in Revealing Solutions…
We are an ISO9001:2008 company providing award-winning Ncompass™ test equipment and maintenance data exploitation tools to help our Aerospace & Rail clients reduce life-cycle costs and increase operational reliability by fixing the causes of 'downtime' and 'No Fault Found'.
Copernicus Technology also provide world-leading Maritime Patrol Aircraft operations expertise through training and consultancy services.
Copernicus Technology operate in the UK and Australia and we have industry partners worldwide. Go to the contacts page to get in touch.