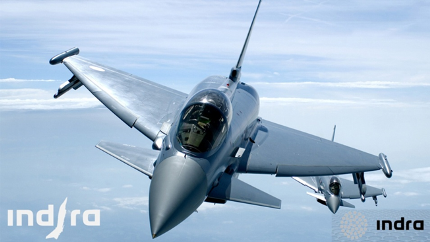 Published 30 Oct 2014
Copernicus Technology has sealed a contract with Indra, the Spanish Technology giant, which will enable Indra to use the new Ncompass-Voyager™ electrical test system to increase aircraft availability for their customers by significantly reducing their intermittent fault issues and confirming wiring integrity.
Why Indra selected the Ncompass-Voyager™
Intermittent faults are a common issue within the aerospace industry and result in individual aircraft being inactive or unreliable until the cause of the fault is located – losing availability and clocking up hours and billions of dollars in resultant costs for aircraft engineers and the supply chain. The portable Ncompass-Voyager™ electrical test system can test multiple (up to 512) circuits simultaneously for Intermittence and a number of other wiring integrity issues, finding the fault far quicker than traditional testers.
The testing technology within the Ncompass-Voyager™ has won several accolades including the top innovation award at the US Department of Defense (DoD) Maintenance Symposium and is used in both military and civilian aerospace, as well as other technology sectors. This current version was developed and produced at Copernicus Technology Ltd by former RAF personnel based in Moray in the north of Scotland.
As well as the Ncompass-Voyager™, Copernicus Technology also supplied Indra with a 'First-Line' vibration table for initial vibration testing of components without the requirement take the items away from the front line maintenance level to an expensive fully instrumented chamber.
Indra announced their partnership with Copernicus Technology Ltd at a recent European Defence Aerospace Maintenance Conference in Munich and has already conducted successful joint testing on faulty cables and intends to use it on a wide range of other systems.
Indra Project Manager, Juan Carlos Fermosell said: "From No Fault Found to Fault Not Found. Intermittent failures are an essential part of this challenge, and increasing Fleet availability and improving Flight Safety are key issues for our Customers. All of these issues reduce operational costs. Copernicus Technology Ltd is a key partner to achieving this objective "
Roo Hornby, Copernicus Technology Ltd Business Development Director said:
"We are really excited about growing our relationship with Indra Systems and their partners. The Ncompass-Voyager™ is a great new product and we are delighted that Indra has immediately identified how it can save time and reduce costs in the maintenance of avionic and electrical systems. The technology has been employed extremely successfully in the US with the DoD and in the UK with the MOD where it has been used on military aircraft including the Chinook CH-47. It is now available in a new portable format and we are able to demonstrate its proven benefits across both commercial and military markets."
Copernicus Technology are experts in Revealing Solutions…
We are an ISO9001:2008 company providing award-winning Ncompass™ test equipment and maintenance data exploitation tools to help our Aerospace & Rail clients reduce life-cycle costs and increase operational reliability by fixing the causes of 'downtime' and 'No Fault Found'.
Copernicus Technology also provide world-leading Maritime Patrol Aircraft operations expertise through training and consultancy services.
Copernicus Technology operate in the UK and Australia and we have industry partners worldwide. Go to the contacts page to get in touch.