Published 16 Jun 2014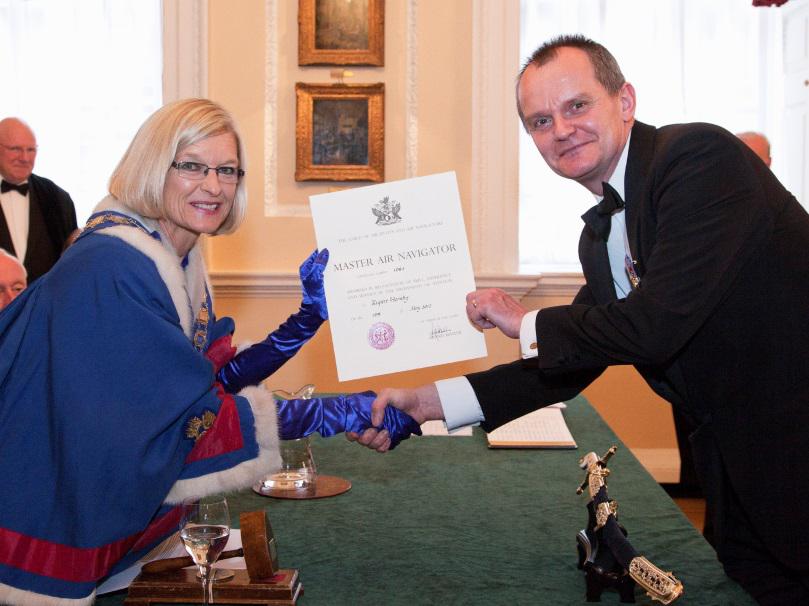 Roo Hornby, 49, the recently appointed Business Development Director at Copernicus Technology Ltd (CTL), received a major accolade in London last month. He was awarded the status of Master Air Navigator, having been nominated for the award by his supervisors shortly before he left the RAF in 2012.
The award is an honour to a pilot or navigator (civil or military) in recognition of long service and consistently high standards in the profession: it is only awarded to those aviators who have displayed those skills and character which have brought honour and respect to the profession over a number of years.
The award ceremony, hosted at the prestigious Mansion House in London, was held by the Honourable Company of Air Pilots & Air Navigators (formerly the Guild of Air Pilots and Navigators) and was followed by a dinner in the company of HRH the Duke of Edinburgh. Roo is pictured above receiving his award from the Master of the Honourable Company, Diane Saul-Pooley LLB(Hons) FRAeS.
Roo's 30 year RAF career was mainly forged in the Moray region of Northern Scotland on Maritime Patrol Aircraft (MPA). His RAF career highlights included the unique distinction of achieving aircraft captaincy as a navigator on two separate aircraft - the Shackleton and Nimrod - by the age of 30; as well as holding numerous training and supervision roles culminating in being responsible for Standards and Quality Assurance across all Nimrod MPA aircrew at RAF Kinloss. He was extensively involved in numerous operations around the UK and in the Mediterranean, Balkans, Middle East and Caribbean.
Roo, who lives in Lossiemouth, joined CTL in January 2013 to establish its Maritime Patrol Aircraft training and consultancy division. While building that client base he has become fully involved in Business Development across the reliability and maintenance activities of CTL, who specialise in cutting-edge fault finding test equipment and repair data analysis solutions in Aerospace and other technology industries.
Following his successful start in these roles Roo was then appointed as CTL's Business Development Director in April this year. Speaking about his appointment, Managing Director Giles Huby said "We are genuinely delighted to welcome Roo to the CTL Board. He brings a fresh perspective and a wealth of experience from multi-disciplinary aviation activities from around the globe and these are valuable skills for him to apply in support of growing the company. Not only that, I'd like to offer him our congratulations on behalf of the whole team following his well-deserved recognition by the Honourable Company of Air Pilots & Air Navigators. The Master Air Navigator accolade is not awarded lightly so this is a clear indication of precisely the calibre of professional that Roo is. I'm glad he's on our team!".
Find out more: CTL provide specialist training and consultancy support solutions in Maritime Patrol Aircraft (MPA) & Intelligence Surveillance Reconnaissance (ISR) operations and support. Contact us to find out what we can offer: This email address is being protected from spambots. You need JavaScript enabled to view it.