24 Mar 2014 – the second Symposium on tackling No Fault Found (NFF) in Maintenance Engineering will be held on 28th May 2014 at the Defence Academy of the United Kingdom at Shrivenham, UK.  
Last year's inaugural event, pictured on the left (© 2013 Cranfield University), was a huge success and its excellent level of attendance meant that it was probably the world's largest conference on NFF in the aerospace, transport and technology sectors.  The report on last year's event can be downloaded here. 
This year's Symposium aims to build on the successes from last year's event in further advancing understanding of how NFF manifests itself within maintenance environments.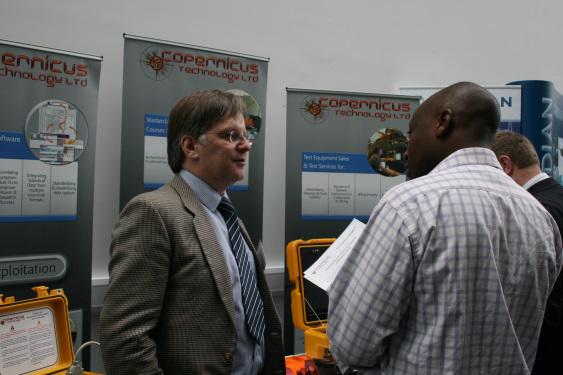 The Symposium is organised by the Cranfield University-based EPSRC Through-life Engineering Services (TES) research centre.  CTL is an industry partner of the EPSRC TES Centre, supporting their 5-year NFF research project.  The day will provide plenty of questioning and networking opportunities, together with an open discussion forum.  
Confirmed keynote speakers include:
Giles Huby (Copernicus Technology Ltd, UK), "The NFF Working Group & Testing for NFF - A Case Study"
Jon Neal (Rolls Royce, UK), "An investigation of NFF unit removals in Civil Aviation"
Ian James (Aero Engine Control, UK), "Reliability Enhancement Methodology and Modelling History and Update"
Ken Anderson (Universal Synaptics, USA), "Reducing No Fault Found and Improving Operational Availability through Intermittent Fault Detection"
Dr John Cook (DE&S, UK), "MOD's need to find solutions to NFF"
Chris Hockley (Cranfield University, UK), "MOD's True NFF Costs"
Dan Somers (Warwick Analytics, UK), "Nasty Faults Fixed"
Neil Pickthall (University of the Highlands and Islands, UK), "The Human side of NFF"
For more details visit the event website.

About the EPSRC TES research centre
The mission of the Centre is to develop knowledge, technology and process demonstrators, novel methodologies, techniques and the associated toolsets to provide the capability for the concept design of high value engineering systems based on design and manufacturing for through-life engineering services. They aim to improve the availability, predictability and reliability of complex engineering products to deliver the lowest possible whole life cycle cost by developing technologies and processes to improve the design and manufacture of such systems.  Current research is focused on No Fault Found reduction; self-healing technologies;  characterisation of in-service component feedback for system design/manufacturing; and Improvement of system design process for whole life cost reduction.  Their core industrial partners are Rolls-Royce, Bombardier Transportation, BAE Systems and the MoD; plus numerous other partners, including CTL.
About Copernicus Technology Ltd
We provide award-winning Ncompass™ test equipment and maintenance data exploitation tools to help our Aerospace & Rail clients fix the causes of 'downtime' and 'No Fault Found'.  CTL also provide world-leading maritime patrol aircraft operations expertise through training and consultancy services.  CTL are ISO9001:2008 accredited and we are located in the UK, Netherlands and Australia.