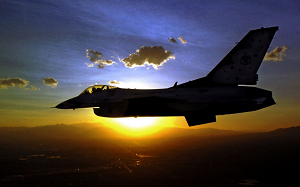 24 May 13 - The outstanding effectiveness of the Intermittent Fault Detector (IFD™) has been further recognised by the US DoD announcing the award of a multi-million dollar contract to procure an Intermittent Fault Detection and Isolation System (IFDIS™) system to test the Programmable Signal Processor (PSP) of the F-16 aircraft's AN/APG-68 radar system.  Universal Synaptics Corp (USC), working with Prime Contractor Total Quality Systems Inc., will deliver the IFDIS™ as part of an ongoing commitment by the DoD to solve No Fault Found (NFF) issues on the F-16 platform.  The IFDIS™ will be supplied with over 8000 channels to test the PSP.  The new tester will be delivered in late 2013 and it is planned to be operational with Hill AFB in 2014.
The IFD™, IFDIS™ and Ncompass™ range of test equipment is the only test technology in the world that can detect intermittent faults down to 20 nanoseconds simultaneously across all channels, which means the probability of detection of intermittent faults is several millions of times higher than the probability of detection when using conventional scanning digital equipment.
USC are the established leaders in the field of Intermittent Fault Detection, winning the DoD's top prize for maintenance innovation in 2010  and 2012  on another F-16 program where the IFDIS has increased the operational availability of the MLPRF by 300%, leading to support cost savings so far of over $50M. 
Since 1996, USC, based in Roy and Ogden, UT., has been an industry leader in detecting and isolating elusive intermittent faults, and spent years in the "trenches" researching and solving complex diagnostic and testing problems. Their research into the primary root causes of intermittent / NFF problems and the massive digital testing void that exists today with conventional scanning test equipment, led to the development of the patented Intermittent Fault Detector (IFD™), Ncompass™ flight-line IFD™ and the Intermittent Fault Detection and Isolation System (IFDIS™).
Copernicus Technology Ltd (CTL) have been USC's exclusive supplier in the EU and Australia/NZ markets since 2009, and CTL and USC collaborate closely on IFD™ technical support and development.  CTL provide the full range of IFD™ products and services, which have been successfully proven in a wide variety of customer contracts for the Intermittent Fault Detection and Integrity testing of anything from back-planes, to cabling, to inter-connection components.  To find out more contact us now!