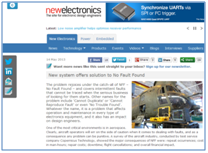 14 May 2013 – in this article New Electronics interviews CTL Customer Focus Director James Martland, who describes the powerful combination of Intermittent Fault Detection equipment with highly developed data analysis approaches.
New system offers solution to No Fault Found
The problem rejoices under the catch-all of NFF – No Fault Found – and covers intermittent faults that cannot be traced when the serious business of looking for them starts. Other names for the problem include 'Cannot Duplicate' or 'Cannot Reproduce Fault' or even 'No Trouble Found'. Whatever the name, it is a problem that affects operation and maintenance in every type of electronics equipment, and it also has an impact on design engineers.
One of the most critical environments is in aerospace. Clearly, aircraft operators will err on the side of caution when it comes to dealing with faults, and as a consequence any problem can be punitive. A survey of the aircraft industry, conducted by test service company Copernicus Technology, showed the major consequences of NFF were: repeat occurrences; cost in man-hours; repair costs; downtime; flight cancellations; and overall financial impact.