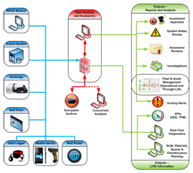 01 Mar 2013 – Copernicus Technology Ltd announces NOVA: the unique data exploitation solution that forges knowledge from data for organisations maintaining and operating complex systems.  NOVA is a flexible solution that can be applied to commercial and military aerospace applications as well as to numerous other industry sectors, from Digital Healthcare to Oil & Gas.
NOVA draws on 2 areas in which CTL has vast experience: data exploitation and aircraft maintenance/airworthiness management. Some time ago, we realised that the UK's Military Airworthiness Authority (MAA) was likely to examine how military aircraft technical data should be managed and exploited to underpin airworthiness and air safety management.  Anticipating the likely needs of MOD air systems project teams faced with operational imperatives, shrinking budgets and regulatory demands, we set about designing a data exploitation solution to help, and NOVA was the result.
The concept of NOVA is based not on the collection of more data, but on the collection of the right data to exploit it more effectively.  In particular NOVA:
Draws together existing islands of data and makes it easy to add new data types.

Enables the easy assimilation of all relevant data for a fleet, or an aircraft, or a serial numbered item.

Provides knowledge for investment decisions.

Supports RAPID 'deep-dive' investigations into technical and safety issues, combining operator reports, trends and individual job card detail. 
For UK MOD customers NOVA delivers all this and much more in a flexible, value-add package that directly supports ODHs, CAMOs, TAAs, Maintenance Organisations and Design Offices in meeting the requirements of MAA Regulatory Article 1140  in full.  
Not only that, for any client maintaining and operating complex systems, NOVA is the data exploitation solution that helps you to see the real picture…
To find out more about CTL's Data Exploitation solutions please call us on +44 1343 842406 or email us at This email address is being protected from spambots. You need JavaScript enabled to view it.