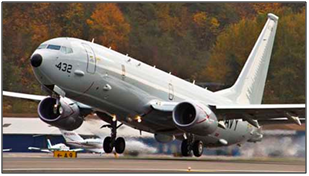 01 Jan 2013 – Copernicus Technology Ltd (CTL) is pleased to announce that it is adding expert training and consultancy services in Maritime Patrol Aircraft (MPA) and Intelligence, Surveillance & Reconnaissance (ISR) to its range of products and services.  
The need for trained, expert MPA & ISR operators is clear.  Oceans and seas cover 70% of the globe and 80-90% of international trade travels by Sea.  With the proliferation of nations that own submarines and with piracy and terrorism offering an increasingly unpredictable maritime security environment, there is a growing requirement for MPA to protect not only nations' home waters, but also their vital trade routes and interests worldwide.  Whilst existing MPA-capable forces need to maintain their edge, more and more nations are now adding MPA-capability to their armed forces by using a new generation of diverse and flexible ISR aircraft of varying sizes such as the Airbus Military C295, ATR 72 MP, Boeing P-8, Embraer EMB 145 MP, Saab 2000 MPA and the Dassault Falcon 900 MPA.
The UK's expertise and proven capability in MPA operations worldwide is second to none, and CTL is uniquely placed to harness that expertise to benefit our clients by providing the services of world-leading exponents in this field: especially in providing consultancy support and training services in MPA flying operations, mission support and logistic support.  
To find out more about our MPA & ISR training and consultancy solutions please contact This email address is being protected from spambots. You need JavaScript enabled to view it.
Or if you want to know more about CTL's data exploitation expertise or about our pioneering, proven and award-winning solutions to problems with NFF, intermittent faults and systems integrity, then contact This email address is being protected from spambots. You need JavaScript enabled to view it. or call us on +44 1343 842406.