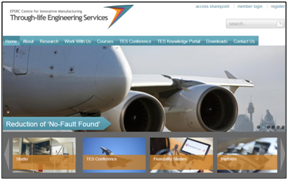 01 Jan 2013 – The first ever conference in the UK dedicated to solving the No Fault Found problem will be held at Cranfield University on Monday 18th March 2013.  The No Fault Found Symposium is being organised by the EPSRC Centre in Through-life Engineering Services (TES) and aims to bring together the community of practitioners faced with solving the challenges of NFF in order to provide them with an outstanding opportunity to hear speakers from industry, academia and the Ministry of Defence (MOD) describe the latest developments and pioneering solutions to the enduring NFF problem.
Copernicus Technology Ltd (CTL) is an industry partner of the EPSRC TES Centre and we work very closely with the Centre's team currently undertaking a 3-year research project into NFF.  CTL will be presenting at the Symposium, which will also feature speakers from Flybe, Aero Engine Controls, BAE SYSTEMS and the MOD.  The event will span multiple industrial domains and will be relevant to a variety of sectors including Defence, Aerospace, Rail, Automotive, Shipping, and nuclear industries.  
For more information about the Symposium click here to go the TES event web page or contact This email address is being protected from spambots. You need JavaScript enabled to view it.
Or if you want to know more about CTL's involvement in the TES Centre's NFF project or about our pioneering, proven and award-winning solutions to problems with NFF, intermittent faults and systems integrity, then contact us direct .