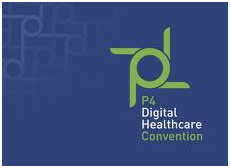 22 Nov 2012 – the annual Digital Healthcare conference was held in Inverness over the 20th and 21st of November and examined how healthcare can become more Predictive, Preventative, Personalised and Participatory ("P4") through the exploitation of digital technology.  Copernicus Technology Ltd (CTL) was invited as a guest speaker to provide a comparison between the use of its data exploitation expertise to directly enable the improvement of aircraft availability and operational reliability, with data exploitation in Healthcare in order to improve 'people availability'.  Another way of looking at the issue is that both aircraft and people need scheduled and corrective 'maintenance' over their life cycles; consequently, those providing that 'maintenance' for people have enthusiastically recognised the need to harness data to improve diagnostics and prognostics. 
To watch CTL's presentation by Giles Huby, click here, select 'Eventcasts', then 'P4 Digital', then 'November 21st – Session 2': and fast-forward to approximately 35:20 minutes in.
The conference provided an opportunity to discuss the latest developments and future direction of this fascinating and rapidly changing field, focusing on a unique network of forward thinking leaders from industry, academia and statutory healthcare who are actively working to create new and different ways of delivering health and care in response to growing global challenges.   It represented the latest in a number of related activities happening in the Highland region, which is fast becoming one of the world's first and most active digital healthcare clusters .  CTL's expertise in data exploitation to improve availability and reduce support costs is completely applicable in this field hence we are now in the early stages of scoping R&D collaboration with other stakeholders in the digital healthcare cluster.
For more information about the Highlands & Islands Digital Healthcare sector click on the contact Dr Steven Dodsworth, Highlands & Islands Enterprise Head of Life Sciences, This email address is being protected from spambots. You need JavaScript enabled to view it.
Or if you want to know more about CTL's data exploitation expertise or about our pioneering, proven and award-winning solutions to problems with NFF, intermittent faults and systems integrity, then contact us direct .