We held an Attacking Downtime with Advanced Diagnostics and Testing Industry Day at our offices in Lincoln on 12 September 2012.  In addition to CTL's data exploitation capabilities and advanced testing technology, innovative solutions from Continental Data Graphics Ltd and Cassidian Test & Services (UK) Ltd were also demonstrated.  The attendees were drawn from across industry, academia and the MOD, and the most successful aspect of the day was the full and open debate that took place about how much wasted resource and energy goes in to chasing difficult-to-detect faults.

Billy Rolls' Ncompass 4000 intermittency testing demonstration
was a highlight that instigated many "How do you do that?" questions.
Free-flowing discussions in the break-out sessions – the Facilitator's Conundrum:
Exactly how important is it to stay on-timetable?
Thanks to the full participation of everyone who attended, the Attacking Downtime problem was framed and the 'As-Is' condition described.  The 'To-Be' condition, with all it's implementation challenges was discussed, distilled and articulated.  
We've captured the discussion outcomes in this PowerPoint – click on the graphic below.  We'd love it if you downloaded the file and gave us your feedback: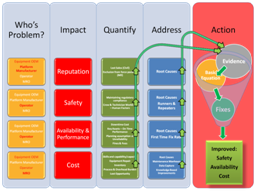 We'd like to thank all of our colleagues in the military and civil aerospace sectors for their support, active participation and attendance at this Industry Day.  If you would like to know more then contact
This email address is being protected from spambots. You need JavaScript enabled to view it.
or call James on +44 (0)1522 668901