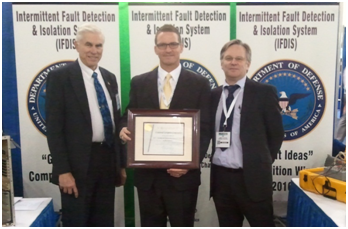 15 Nov 2012 – the use of the Intermittent Fault Detection & Isolation System (IFDIS™) has won the US Department of Defence's Maintenance "Great Ideas" award for a second time, following its original success in 2010.  
"This is an incredible achievement by the combined team of Universal Synaptics Corporation and TQS, who together supplied the original IFDIS™ programme for use on F-16 radar LRUs," said CTL Technical Director Jim Cockram (picture above with, on the left, Bryan Steadman of TQS and, centre, Ken Anderson from Universal Synaptics Corporation), "especially when you consider that they won it so decisively in 2010.  The continuing use of the IFDIS™ to improve the mission capability and availability of F-16 radar LRUs was up against some stiff competition in the final at this year's DoD maintenance symposium, but thanks to the professional and robust presentation delivered by Ken Anderson of USC, nobody in the room was in any doubt about it being the clear winner".  
The DoD Maintenance Symposium and Exhibition is the leading annual event for DoD maintainers and their industry counterparts, and its Great Ideas Competition provides a forum for the sharing of new and innovative ideas relative to maintenance technologies and processes. USC was one of 6 finalists selected from approximately 300 eligible Great Ideas submissions for the opportunity of participating in the competition.  Each of the finalists had to deliver a 15-minute presentation to an audience of approximately 1500 senior DoD officers, officials and industry leaders, before a vote was conducted to establish the winner.  The IFDIS™ won the award in recognition of its amazing success in increasing the availability of the MLPRF LRU from the F-16 radar.  To date $39M of flight hardware previously considered 'unrepairable' has been recovered for use, its MTBR has tripled and maintenance savings of $11M accrued.
Jim Cockram was in attendance for the second year running on behalf of CTL to support USC, as their European partner.  "In 2011 USC came second with their neural electronic repair and diagnostic system, so for them to have been in the final 3 years in a row is an incredible achievement, and to have won it twice out of those 3 years is simply astounding" said Cockram.  "It illustrates how capable and effective the IFDIS™ technology is, and it underlines just how seriously it is being taken by the DoD".
Speaking from CTL's office in Scotland, Managing Director Giles Huby applauded the team at USC on their latest success.  "Everybody at Copernicus Technology Ltd is thrilled to hear the news that USC and the IFDIS™ have won the prestigious Great Ideas prize yet again!  We would like to offer our wholehearted congratulations to the entire team at Universal Synaptics.  It's an incredible achievement and further emphasises just how important this technology is, which is exactly why CTL are so committed to supplying this capability to customers across Europe and Australia: to give them the definitive competitive edge".