01 Aug 2012 – Copernicus Technology Ltd (CTL) is proud to announce that it is now an Industry Partner of the EPSRC Centre for Innovative Manufacturing in Through-life Engineering Services (EPSRC Centre in TES), which is based at Cranfield University.  As part of our contribution to the EPSRC Centre in TES, last month CTL delivered an Ncompass™ 4000 to the Centre's R&D team who are running a 3-year research project into No Fault Found (NFF).  CTL is also providing specialistadvice and assistance to the NFF research team.

The EPSRC Centre in TESis a £11.1M multi-sector National centre that was launched in 2011, with £5.7M of that funding coming from the EPSRC.  In addition to Cranfield and Durham Universities there are 4 lead industry partners – BAE SYSTEMS, Rolls Royce, Bombardier Transport and the UK MOD.  There is also a range of additional partners including Siemens, the British Standards Institute – and now Copernicus Technology Ltd!  
There are 5 headline projects that the EPSRC Centre in TES is running right now, including improving system design for whole-life cost reduction, self-healing technologies and, of course, No Fault Found (NFF).  The current scope of the NFF project is:
To identify procedural, process and behavioural issues that need to be changed, learning from best practice in each industry. 
To develop approaches at the board level to detect, characterize and locate NFF intermittent failures and deliver a fault localisation mechanism and demonstrator at the board and sub-system level.
To devise strategies, methodologies and system design rules to mitigate the occurrence of intermittent failure mechanisms and to demonstrate their effectiveness in reducing the likelihood of NFF occurrences.
To develop a multi-disciplinary approach at the System level for the effective analysis of the root causes of NFF in order to assist design activity across domains.
To develop a handbook and a system design evaluation standard with procedures that will reduce the problem of NFF.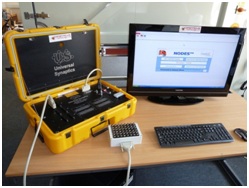 CTL is providing support to the EPSRC Centre in TES in a variety of ways, including the provision of an Ncompass™ 4000 Analyzer to support the project's examination of intermittency and its relationship to NFF.  The Centre's Ncompass is picturedon the left, along with the desktop PC to control the Analyzer.  The monitor shows the home screen of NODES™ software which is used to run testing and record and manage results and results reporting.  The small box of switches connected to the Analyzer is a simple 'demobox' which represents a 'Unit Under Test', to demonstrate the Ncompass' ability to detect intermittent faults on all test points simultaneously and continuously.
The Ncompass was handed over to the NFF project's research manager Dr Paul Phillips, and to his project colleague Dr Samir Khan, by CTL Technical Director Jim Cockram.  Mr Cockram said "Copernicus Technology Ltd is extremely proud to be associated with the research of the EPSRC Centre in TES, especially the opportunity to support R&D into No Fault Found in this way.  The team at Cranfield have excellent links across Academia and Industry, and so this represents an exciting opportunity for us all to make a huge difference to driving out NFF problems.  This is vital work given that NFF costs the military and civilian sectors millions every single year, so we're delighted that Copernicus Technology Ltd is able to support this ambitious project".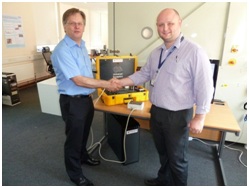 Mr Cockram is pictured here, on the left of the picture, handing over the Ncompass to Dr Phillips.  On receiving their Ncompass, Dr Phillips said "We are very excited at getting our hands on the Ncompass because, alongside our other equipment, it will be a vital tool in helping us to understand the contribution of intermittent faults to NFF problems in the design and maintenance environments.  Now that we have the Ncompass we are already looking at what kinds of equipment we will test to further the aims of our project".
The whole CTL team are immensely proud to be associated with the EPSRC Centre in TES and can't wait to see how the NFF research progresses.  More news of that will be published on this website in due course, and the EPSRC Centre in TES will provide updates on progress at their first international conference on 5-6 Nov 2012, as well as at the next ADS MRO&L Network's NFF Working Group on 7 Nov 2012.
Want to know more?
This email address is being protected from spambots. You need JavaScript enabled to view it.