News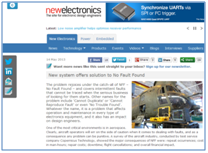 14 May 2013 – in this article New Electronics interviews CTL Customer Focus Director James Martland, who describes the powerful combination of Intermittent Fault Detection equipment with highly developed data analysis approaches.
New system offers solution to No Fault Found
The problem rejoices under the catch-all of NFF – No Fault Found – and covers intermittent faults that cannot be traced when the serious business of looking for them starts. Other names for the problem include 'Cannot Duplicate' or 'Cannot Reproduce Fault' or even 'No Trouble Found'. Whatever the name, it is a problem that affects operation and maintenance in every type of electronics equipment, and it also has an impact on design engineers.
One of the most critical environments is in aerospace. Clearly, aircraft operators will err on the side of caution when it comes to dealing with faults, and as a consequence any problem can be punitive. A survey of the aircraft industry, conducted by test service company Copernicus Technology, showed the major consequences of NFF were: repeat occurrences; cost in man-hours; repair costs; downtime; flight cancellations; and overall financial impact.
[31 May 2017] Cranfield University announced today that this Symposium has been cancelled due to the low number of bookings. This was a result of a lack of publicity of the event by the events publicity team and the sponsors' publicity teams. The organisers are now considering whether to arrange a new conference later in the year. When we know more we will let you know.
In the meantime, if you had already booked a place then contact the organisers immediately to arrange a refund.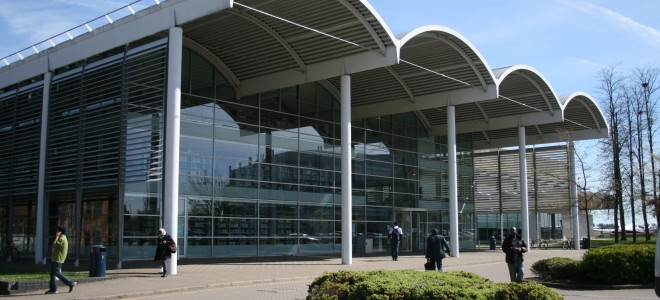 Cranfield University, supported by the ADS No Fault Found Working Group, have arranged annual NFF conferences since 2013 and, in response to overwhelming attendee feedback from the attendees, the sole focus of the 2017 event will be "NFF Solutions". The NFF Solutions symposium will be held at Cranfield University and comprises a conference on 20th June and workshop sessions on the 21st.
"No Fault Found" is a widespread maintenance problem in aviation, defence and transport sectors. It incurs billions of pounds of avoidable costs every year and affects performance and safety, which is why it's vital to know how to deal with the global NFF problem. If your organisation needs to drive up operational reliability and remove support cost from your operation, solving NFF is the ideal place to start: this symposium will tell you how, with highly successful case studies from Airbus, Rolls Royce, Copernicus Technology, BAE Systems, the MOD and others.
Full details of the programme and how to register can be found on the NFF Solutions symposium webpage, and we strongly suggest that you register to attend by close of business on 31st May to guarantee your place.
And MTBF Doubled
And a Further $1M a Year Maintenance Savings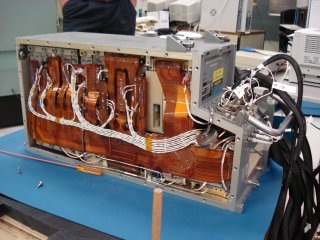 Ncompass test technology, and its unique Intermittent Fault Detection capability continues to rack up huge successes on a major project in theUS. It is being used to undertake intermittent fault detection testing of Modular Low Power Radio Frequency (MLPRF) assemblies (picture right) from the F16 fleet. This was a Line Replaceable Unit (LRU) with a major history of 'No Fault Found' problems, predominantly manifested as a significant number of 'No Fault Found' occurrences at Depth repair.
72% of the MLPRFs had been returned for repair between 2 to 6 times within the last 10 years; at the far extreme, 2 individual MLPRFs had been returned 17 times in the same 10 year period! The end result of this was that the MLPRF repair bay had accumulated 109 MLPRFs that were deemed "unrepairable".
The NCompass' IFD capabilities were brought to bear and the situation soon began to change dramatically. To date, 69 of the 109 "unrepairable" MLPRFs have had the intermittent faults, which had been at the root cause of their No Fault Found problems, detected successfully. All 69 have since been repaired and returned to service: at $307k per LRU, this represents recovery of over $21M-worth of assets to date. Meanwhile, the remaining 40 "unrepairable" MLPRFs have also been tested and now await parts to enable the requisite repairs to take place.
The effects of this Ncompass test programme are such that the Mean Time Between Failure (MTBF) statistic for the MLPRF have increased from 301 flying hours to 656 flying hours. These MTBF increases mean fewer repairs and so this alone is projected to enable additional maintenance costs savings, forecast at a further $1.1M, year on year.
All of this information, including a further case study (F16 Azimuth/Elev ribbon cable) was presented at the May 2010 US Airworthiness & Sustainment conference (formerly known as the 'Aging Aircraft' conference) in Texas. To see the full presentation go this link.
Want to know more? Click on the major links above, for 'Services' or 'Test Equipment'.
Or contact us